Light ray
Light ray
Light ray
Light ray
Light ray
Light ray
Light ray










Science & Research
The Western Australian Government's shark mitigation strategy has a strong evidence based focus, backed by science. The Government has supported a variety of research projects and initiatives to enhance our understanding of shark biology and ecology to better inform our government policies.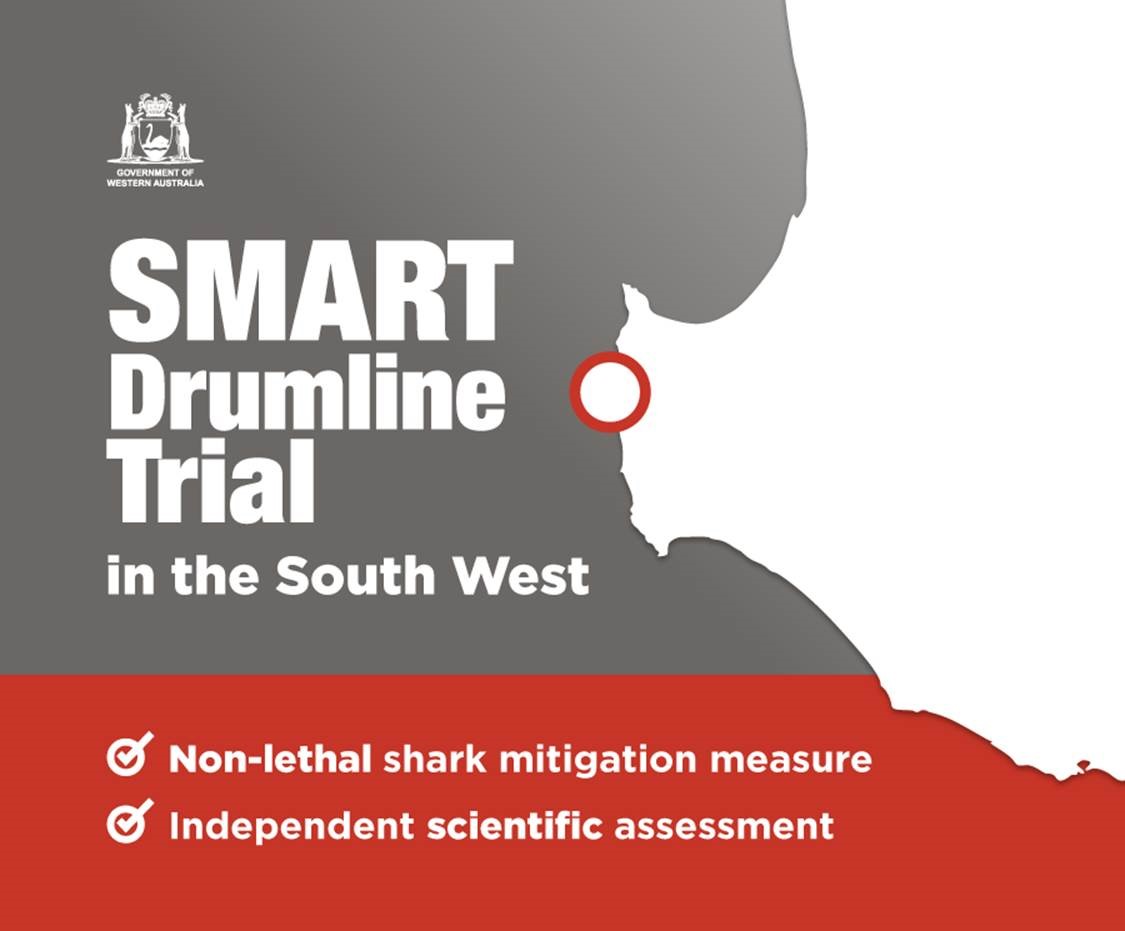 Scientific non-lethal SMART drumline trial
06 September 2018
The Western Australian Government conducted a two-year scientific trial of non-lethal SMART drumlines to assess the effectiveness of SMART drumlines in reducing the risk of shark attacks. The intent of the trial was not to kill sharks, but to catch, tag, relocate and release white sharks one kilometre from shore.
Through the Department of Primary Industries and Regional Development (DPIRD), the scientific trial was conducted between 21 February 2019 and 20 February 2021. Fishing operations continued until the 20 May 2021, while the scientific assessment took place.
An independent review by WA's Chief Scientist, Professor Peter Klinken AC, has concluded SMART drumline technology was not effective as a shark mitigation measure in Western Australian conditions and provides no demonstrable value in reducing the potential risk posed by white sharks off the South West coast.
Professor Klinken determined the trial itself was extremely well designed and implemented in a highly skilful manner.
On the recommendation of the Chief Scientist, the trial concluded and additional investment will be made into the highly effective approach of tagging white sharks through the Department of Primary Industries and Regional Development's white shark tagging program.
BACKGROUND
Ten SMART drumlines were deployed evenly across 11.5 kilometres of coastline in the State's South West, about 500 metres offshore from Hangmans surfbreak north of Gracetown to Ellensbrook in the south. Weather permitting, SMART drumlines were deployed and retrieved each day, during daylight hours. The drumlines were continuously monitored while in the water and positioned to allow a vessel to attend within 30 minutes of an alert being received.
During the two-year period, the SMART drumline trial caught two white sharks (target species) and 266 non-target sharks including tiger, bronze whaler, shortfin mako, dusky, scalloped and smooth hammerhead sharks. For more information, view the monthly catch reports, Fisheries Occasional Publication 139 and Fisheries Occasional Publication 140
SHARK MONITORING NETWORK
As part of the consultation process for the SMART drumline trial, the community was able to provide advice on potential locations for three additional shark monitoring receivers which were deployed, two outside Cowaramup Bay and one at Lefthanders surfing spot. These receivers provide ocean users and land managers with near real-time alerts through the Shark Monitoring Network when tagged sharks are detected.
SHARK WARNING SYSTEM
Shark Warning Systems are towers which use lights, sirens and audio broadcasts to notify beach users of shark activity within the vicinity of the area.
Nine towers have been installed in the SMART drumline trial area, alerting beach users of shark activity in the area. Locations of the Shark Warning Systems can be viewed on the shark activity map.