Light ray
Light ray
Light ray
Light ray
Light ray
Light ray
Light ray










Staying Safe
Even though shark encounters are rare, here are some common sense tips to help reduce the risk of one happening.
Shark Sightings, Detections & Responses
29 September 2016
Since 2008, the Western Australian Government has invested in a broad range of shark hazard mitigation strategies, and continues to commit to initiatives such as helicopter and beach patrols, science, education and awareness, emerging technologies, and beach enclosures.
The Western Australian Government has developed a world first, integrated shark notification and response system which is a partnership between the Department of Primary Industries and Regional Development, Water Police and Surf Life Saving WA. This system provides 'real time' information on shark sightings and detections to response agencies and the public, to assist people in making informed decisions about their water use.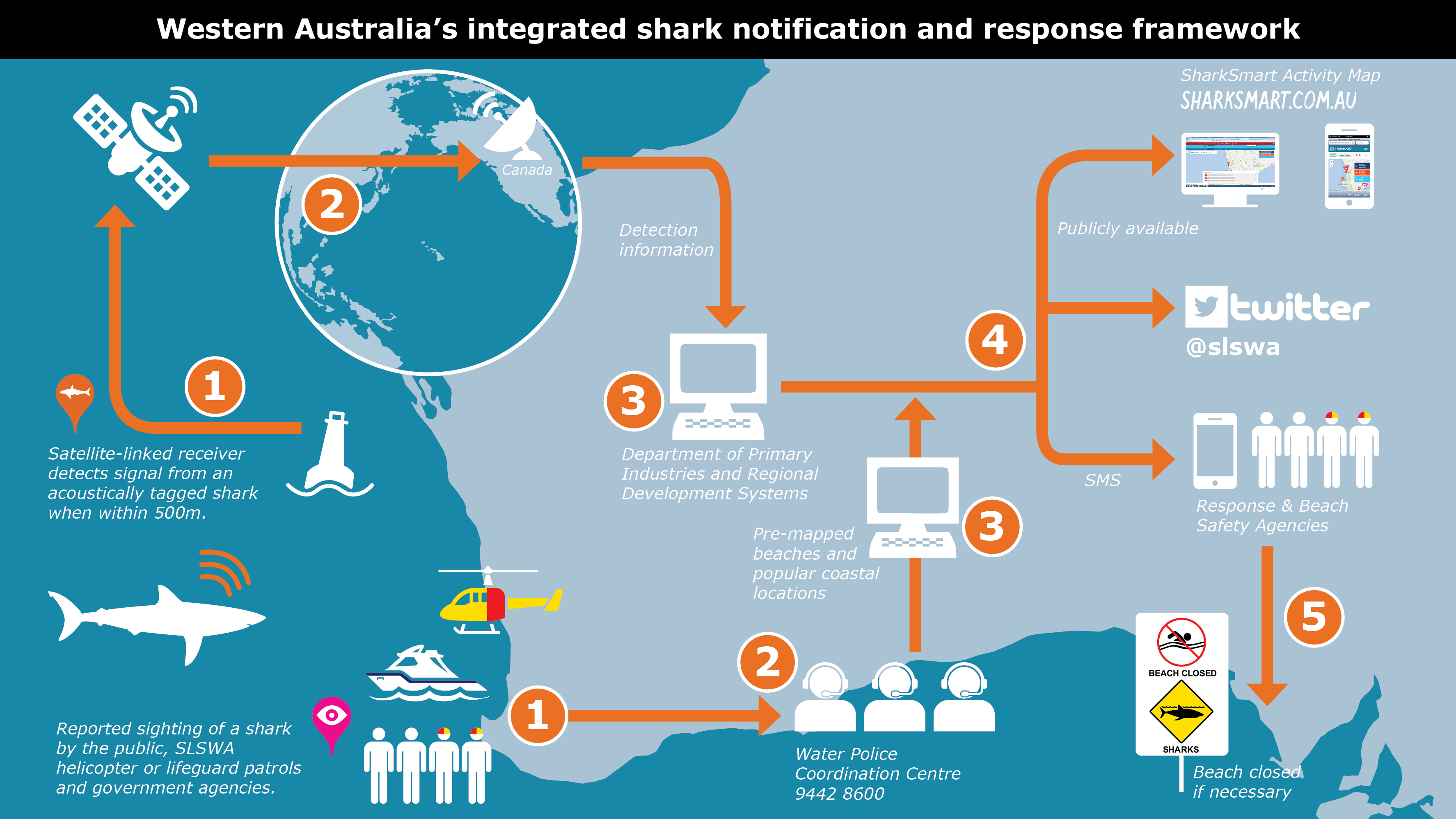 The notification and response system relies on two information systems – reported shark sightings from the Water Police 24 hour coordination centre made by the public, or Surf Lifesavers; and tagged shark detections from the Shark Monitoring Network.
Information from all reported sightings, and tagged shark detections is automatically posted simultaneously to three platforms, so it is publically available and instantly sent to response agencies.
All information is digitally mapped on the shark activity map to enable people to check any recent activity before using the beach. These systems also generate tweets which are sent from the Surf Life Saving WA twitter feed (@SLSWA), and send a text to lifeguards or beach land managers, so beaches can be closed quickly when needed. The Department of Primary Industries and Regional Development monitors the shark sighting and detection systems and issues alerts and warnings when there may be a heightened risk of a shark encounter identified.
We all play an important part to ensure the success of our shark notification and response system. You can play your part by:
Keeping informed of the latest reported sighting and tagged shark detection information by viewing the SHARK ACTIVITY MAP or by following SLSWA TWITTER.
Reporting shark sightings to Water Police on 9442 8600.
Observing any beach closures put in place by beach safety agencies such as Surf Life Saving WA or Rangers from Local Government or Parks and Wildlife Service officers from the Department of Biodiveristy, Conservation and Attractions.
Reporting Shark Sightings
The risks of encountering a shark are low, but we can all play a part to help keep everyone safe by reporting any shark sightings to Water Police on 9442 8600.
Report all shark sightings as soon as possible to ensure effective response procedures. Include:
Date and time.
Location. Be specific; provide the beach or landmark name, closest suburb or town and distance from shore.
Shark species (if known) or distinguishing features.
Estimated size (use a vessel or other visual marker for size comparison).
Your contact details for follow-up, if needed.
The information reported is providing vital public safety warnings that may help to save peoples' lives.
Shark Monitoring Network
The Shark Monitoring Network consists of 27 satellite-linked receivers which provide safety agencies with near real-time alerts of tagged sharks at key locations, enabling beaches to be closed when needed.
Shark detections occur when an acoustically tagged shark swims within approximately 400-500 metres of the receiver.
Receivers are located throughout the Perth Metropolitan area, Geographe Bay, Yallingup, Albany and Esperance.
Receiver locations can be viewed on the Shark Monitoring Network Research Map.