Light ray
Light ray
Light ray
Light ray
Light ray
Light ray
Light ray










News and Alerts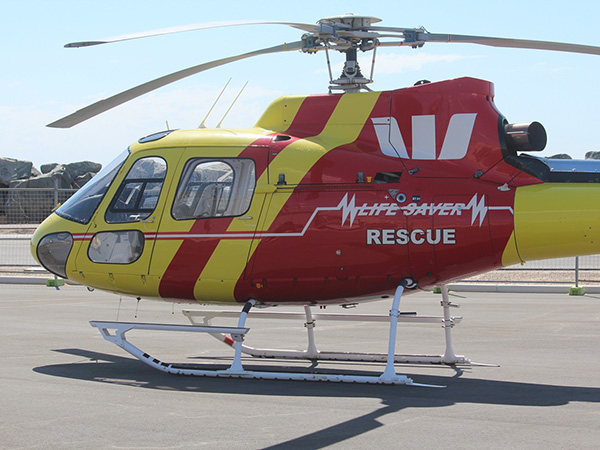 McGowan Government extends daily Surf Life Saving WA chopper patrols
29 April 2018
McGowan Government provides SLSWA about $350,000 to extend daily aerial service to 27 May, 2018
Commonly patrols finish at the end of April, after the school holidays
A bumper salmon run and the biggest mass whale stranding in 10 years is believed to be contributing to higher sightings of large marine animals, including white sharks
The McGowan Government is for the first time in WA extending daily aerial patrols of both south west and metropolitan beaches beyond April.
Surf Life Saving Western Australia (SLSWA) has been provided around $350,000 in additional funding to continue daily aerial patrols in the south west and metropolitan areas until 27 May 2018.
Patrols began on 2 September 2017, three weeks earlier than the year before, and were due to conclude on Monday, 30 April 2018.
Due to higher levels of marine animal activity, including sharks, daily patrols will continue to cover the same areas for an additional month. It will cost about $350,000 for the additional month of service.
There are a number of environmental factors in the marine environment that could potentially create higher levels of shark activity in localised areas along the WA coast over the late summer and autumn period, including mass whale strandings and the salmon run.
On 23 March 2018, 105 Long-finned Pilot Whales stranded themselves at Hamelin Bay - the largest stranding in almost 10 years. In the following weeks a further 25 whales washed ashore along the south west coast.
The high number of injured whales or carcasses, on or close to shore, could be providing an opportunistic food source, or acting as an attractant for a range of large animals, including white sharks.
The annual salmon run is known to attract large marine animals during this period and a departmental media release reminder about this was issued in March, as the first signs of the salmon run were being noted.
Water users are urged to check SharkSmart's shark activity map or Surf Life Saving WA's Twitter, before going into the water. Report any shark sightings to Water Police on 9442 8600.
Comments attributed to Fisheries Minister Dave Kelly:
"The safety of people at our beaches is paramount for the McGowan Government and that is why we have made this important decision to fund the extension of the SLSWA aerial patrols until 27 May 2018.
"SLSWA provide a crucial service for our community and form an important part of our multi-faceted shark mitigation strategy in WA and the McGowan Government has always recognised this.
"This is why when we came to government and found the previous Liberal National Government had not funded SLSWA beyond 30 June 2017, we quickly moved to secure more than $6 million in funding for SLSWA.
"The extension of this service beyond April is a first for Western Australia, with no other government previously committing to extend the service, and it will cost taxpayers about $350,000.
"People are urged to heed all warnings and beach closures put in place by authorities."