Light ray
Light ray
Light ray
Light ray
Light ray
Light ray
Light ray










News and Alerts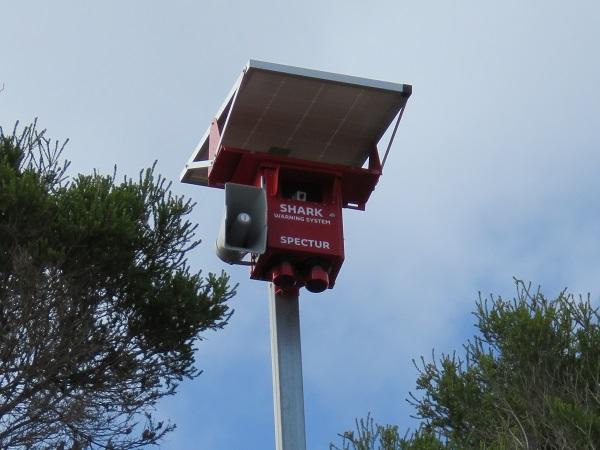 WA shark alarm technology to be used during SMART drumline trial
18 February 2019
McGowan Government to install nine new alarms with lights and sirens along the Gracetown coast
The alarms will let beachgoers know when there is SMART drumline trial activity
Built by a Perth company, Spectur, the alarms provide prompt, localised information
Western Australian-built shark alarm technology has been purchased by the McGowan Government to help keep beachgoers informed of shark activity during the SMART drumline trial in the Gracetown area.
Nine shark alarms will be installed adjacent to main surf breaks in the SMART drumline trial area, to alert beachgoers when the beach is to be closed due to a shark in the area. The alarms use lights, sirens and audio broadcasts to inform beachgoers about beach closures.
The new alarms will be installed this week at surf breaks - Gallows, Guillotines, Cobblestones, The Womb, Ellensbrook, South Point and North Point - and two alarms will be installed at Lefthanders.
The Shire of Augusta Margaret River also recently installed a Spectur alarm at Huzzas surf break in Cowaramup Bay, which will complement the State Government's new Spectur towers at North Point and South Point.
In December, the McGowan Government extended the Shark Monitoring Network in the Capes region. Two satellite-linked receivers were installed near Cowaramup Bay, and a third was installed further south at Lefthanders surf break. There are now 30 satellite-linked receivers in the State Government's Shark Monitoring Network.
For more information, visit http://www.sharksmart.com.au
Comments attributed to Fisheries Minister Dave Kelly:
"The McGowan Government's scientific SMART drumline trial will assess whether the non-lethal technology reduces the risk of shark attacks.
"As the technology is not yet proven as a shark hazard mitigation tool, we want to keep beachgoers safe and immediately alert them to shark activity in the area.
"This shark alarm technology has been developed by a WA company, and I'm pleased we are able to incorporate this local innovation as part of our trial.
"The new solar-powered alarms can be triggered remotely, making the local alert process faster and informing those already in the water.
"The SMART drumline technology is satellite-linked and when the non-lethal drumlines are activated, a message is sent to activate the relevant Spectur alarm.
"These new alarms will also alert beachgoers to any shark sightings and tagged shark detections from the three local Shark Monitoring Network receivers in the SMART drumline area.
"Throughout the SMART drumline trial we encourage water users to use their Sea Sense - if surfing or diving, consider using a scientifically proven personal shark deterrent."
Minister's office - 6552 6100