Light ray
Light ray
Light ray
Light ray
Light ray
Light ray
Light ray










News and Alerts
Find the latest advice, warnings, information and news here, to help you stay informed and be SharkSmart.
You can filter the latest information by alert, or media release. Current alerts and warnings are at the top of the page and highlighted.
Visit this page regularly to stay updated with the latest shark information.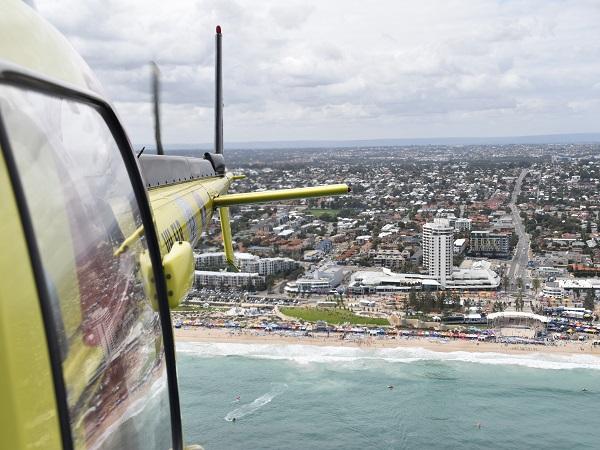 State-funded lifesaving helicopter lifts off to enhance ocean safety
31 August 2018
McGowan Government funds $3.4m for beach patrols this season
Aerial patrols form part of WA's comprehensive shark mitigation strategy
Formal community consultation on SMART drumline trial set to start
McGowan Government to extend shark monitoring network in the South-West
The State Government-funded Surf Life Saving WA (SLSWA) helicopter patrol service springs into action this weekend, as the weather warms and Western Australians start flocking to our beaches.
The McGowan Government will once again have the State-funded patrols for the metropolitan area and South-West region start three weeks earlier than in the past.
Last season, the State-funded helicopter patrols, which ran seven weeks longer than usual, provided 90 direct warnings to ocean users, patrolled WA beaches for 989 hours, covered more than 100,000 kilometres of coastline and spotted 522 sharks.
From tomorrow (September 1), metropolitan services will first run between Port Bouvard to the south, Yanchep to the north, and Rottnest Island to the west on weekends; and will then move to daily patrols from October 1, 2018 to April 30, 2019.
The South-West service will run between Bunbury and Margaret River on weekends from September 1, with services increasing to daily patrols from November 19, 2018 to February 3, 2019 before reverting back to weekend patrols. The September and April school holidays will also include daily services.
Since March 2017, the McGowan Government has provided almost $12 million to partner with SLSWA to improve beach safety.
The McGowan Government has a comprehensive shark mitigation strategy which includes beach, helicopter and drone patrols; a world-first personal shark deterrent subsidy for divers and surfers; beach enclosures; an extended Shark Monitoring Network to Esperance; tagging operations; and a SMART drumline trial off Gracetown.
Formal consultation on the SMART drumline trial will begin on September 13, 2018, with the community asked to provide their input on the SMART drumline trial, as well as their views on the deployment of VR4 receivers in the Capes region.
For more information, visit http://www.sharksmart.com.au
Comments attributed to Premier Mark McGowan:
"With spring and the warmer weather starting to set in, we expect to see Western Australians once again embrace our beautiful beaches for some fun in the sun.
"Our Surf Life Saving volunteers do an incredible job and have become such a prominent feature on our beaches.
"The State Government-funded helicopters are also such an important surveillance tool to help keep our community safe, whether it be from a rip or sharks.
"The patrols are just one component of the Government's comprehensive shark mitigation strategy which is helping keep Western Australians safe."
Comments attributed to Fisheries Minister Dave Kelly:
"We are so lucky here in WA, we have some of the most amazing beaches in the world that we can all be proud of.
"The risk of encountering a shark is very low, with a comprehensive shark mitigation strategy in place to help keep Western Australians safe.
"We will soon commence formal community consultation on the Gracetown SMART drumline trial which will include seeking feedback on the location of the SMART drumlines.
"On top of this, we have decided we will extend the Shark Monitoring Network in the South-West and will also be seeking the community's views about the location of these receivers during formal consultation."
IMAGE CREDIT - Surf Life Saving WA