Light ray
Light ray
Light ray
Light ray
Light ray
Light ray
Light ray










News and Alerts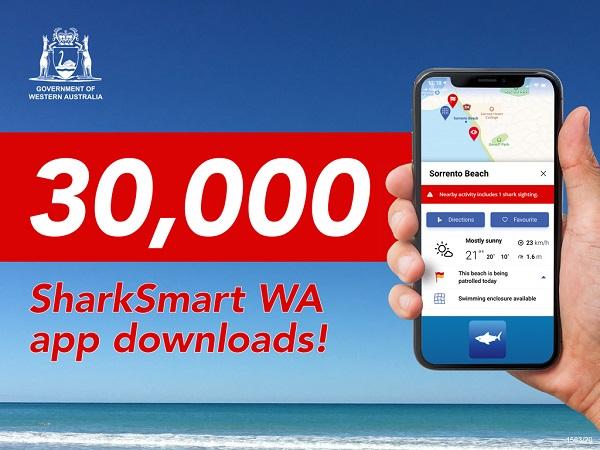 SharkSmart WA app ticks over 30,000 downloads
13 November 2020
SharkSmart WA app reaches 30,000 downloads in 12 months
The app is a key part of the McGowan Government's shark mitigation strategy
The SharkSmart WA app has proved popular with beach goers surpassing 30,000 downloads in just 12 months.
Launched in October 2019, the app is part of the McGowan Government's comprehensive shark mitigation strategy.
It works seamlessly alongside the SharkSmart website to deliver near real-time information on shark activity, including alerts and warnings, to beach goers in Western Australia.
It also provides information on Surf Life Saving WA patrolled beaches, weather forecasts and the locations of the Shark Monitoring Network receivers.
The most used feature on the app continues to be 'updates' which sorts the shark activity information according to a user's favourite or other locations.
SharkSmart users' top five beach spots include: Cottesloe Beach, Mullaloo, Scarborough Beach, Leighton Beach, City Beach.
The most viewed beach safety feature is the location of shark monitoring receivers, followed by patrolled beach locations.
SharkSmart has a quick call link allowing beach goers to instantly report shark sightings or whale carcasses to Water Police. For more information, visit http://www.sharksmart.com.au
Comments attributed to Fisheries Minister Peter Tinley:
"It is great to see so many Western Australians thinking about their beach safety and downloading the free SharkSmart WA app.
"The app is an important communications tool for public safety and a key part of the McGowan Government's shark mitigation strategy.
"The app has been well supported by not only the local community but also by land managers and key stakeholders including Surfing WA and Surf Life Saving WA.
"In the lead up to summer, I encourage Western Australians to download the app so they're up-to-date on shark activity and beach safety information before heading for a swim."