Light ray
Light ray
Light ray
Light ray
Light ray
Light ray
Light ray










News and Alerts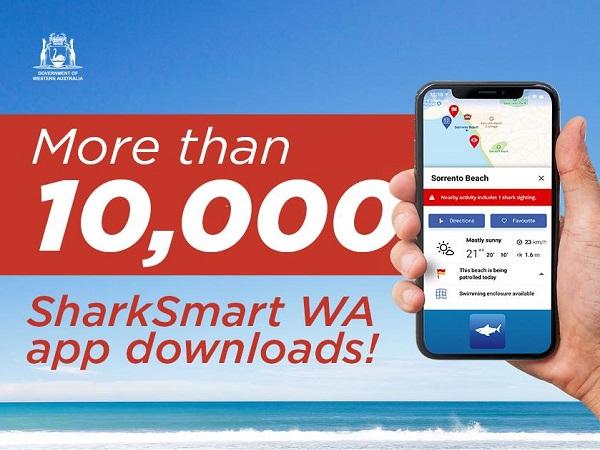 SharkSmart WA app hits 10,000 downloads
16 December 2019
Western Australian ocean users have got behind the State Government's new SharkSmart WA app with more than 10,000 people downloading the app in just over a month.
Launched in late October, the app is the latest safety initiative added to the McGowan Government's comprehensive shark mitigation strategy.
The SharkSmart WA app works seamlessly alongside the SharkSmart website to deliver near real-time information on shark activity, including current alerts and warnings, to ocean users in WA.
It also provides information on Surf Life Saving WA patrolled beaches, weather forecast and the locations of Shark Monitoring Network receivers, to help people plan their trip to the beach.
The most used feature on the app to date is 'updates', which provides the latest shark alerts, tagged shark detections and warnings.
Many ocean users have also taken the opportunity to customise the app to their favourite beach location with the top five being Mullaloo, Cottesloe, Coogee, Scarborough and City Beach.
The most viewed beach safety feature through the app has been the location of shark monitoring receivers.
The app also features a quick call link to report shark sightings or whale carcasses to Water Police, so reports can be made as soon as possible.
The SmarkSmart WA app is being promoted as part of the State Government's new Sea Sense campaign, which is raising awareness of personal water and beach safety and helps swimmers, surfers and divers use their Sea Sense and keep themselves safer in the water.
The app can be downloaded free, from the App Store or Google Play. For more information visit https://www.sharksmart.com.au
Comments attributed to Fisheries Minister Dave Kelly:
"With summer now here, it is good to see West Australian's switching on their Sea Sense and being prepared to stay safe in the water.
"Downloading the SharkSmart WA app is a great way to keep updated on shark activity as it happens, and make informed decisions about personal safety before heading out into the ocean.
"One of the best ways to do this using the app is by setting a favourite coastal location to receive notifications as they happen.
"While the chance of shark encounter in WA is low, we want all water users to stay safe so I encourage all beach goers to download the SharkSmart WA app and stay up-to-date on beach safety this summer."
Minister's office - 6552 6100