Light ray
Light ray
Light ray
Light ray
Light ray
Light ray
Light ray










News and Alerts
Find the latest advice, warnings, information and news here, to help you stay informed and be SharkSmart.
You can filter the latest information by alert, or media release. Current alerts and warnings are at the top of the page and highlighted.
Visit this page regularly to stay updated with the latest shark information.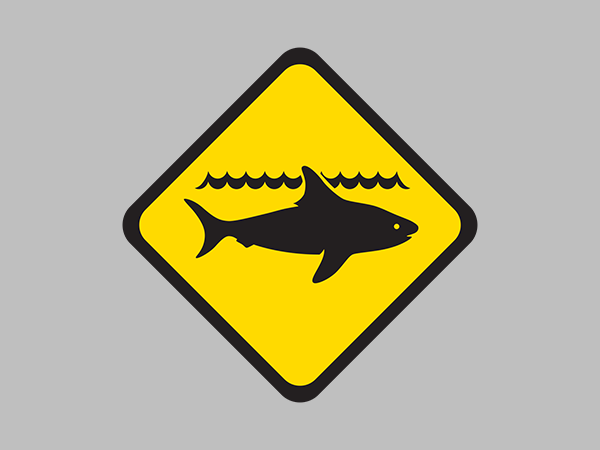 Shark WARNING for Gantheaume Point, near Broome
27 April 2019
Alert level:
A shark WARNING has been issued for Gantheaume Point near Broome after an interaction with a three metre shark, approximately 300m south of the mooring area, was reported by a kayak fisherman.
Situation:
A member of the public has reported that at approximately 5.00pm today, a shark had bitten the rear end of his fishing kayak, while the man was trolling for fish south of the Gantheaume Point mooring area. DPIRD staff are investigating whether it's possible to identify the species of shark involved.
What to do:
Adhere to beach closures advised by Local Government Rangers or Surf Life Saving WA.
Take additional caution in the mooring area at Gantheaume Point.
Keep informed of the latest detection and sighting information by checking the SharkSmart website or Surf Life Saving WA's Twitter feed.
If you see a shark, report it to Water Police on 9442 8600. All shark sighting information reported to Water Police is provided to response agencies and to the public on the SharkSmart website and Surf Life Saving WA Twitter feed.
What authorities are doing:
DPIRD staff are inspecting pictures of the puncture marks to determine the species and possible size of shark involved
Extra information:
Keep informed of the latest detection and sighting information by checking the Shark Activity Map on the SharkSmart website – www.sharksmart.com.au/shark-activity or the Surf Life Saving WA Twitter – twitter.com/SLSWA.
Check www.sharksmart.com.au/news for current alerts and warnings.