Light ray
Light ray
Light ray
Light ray
Light ray
Light ray
Light ray










News and Alerts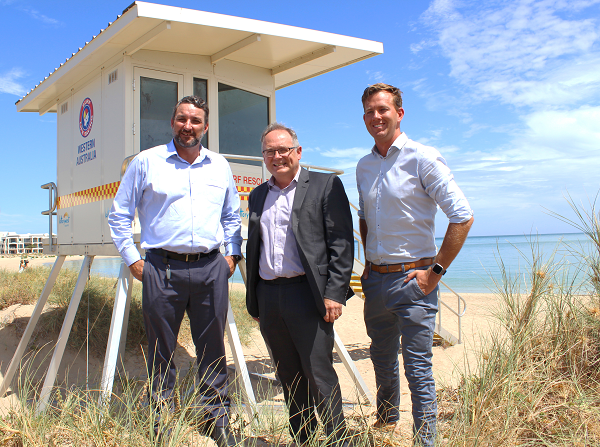 New Government-backed beach patrol services for Mandurah
17 January 2020
The McGowan Government is working to make summers safer for Western Australians
A three-year trial begins on Monday to bring lifesaving services to Mandurah
The City of Mandurah has been a leading council in beach safety initiatives
Acting Fisheries Minister David Templeman has welcomed the City of Mandurah's decision to introduce Surf Life Saving WA patrol services to watch over its popular beaches.
The McGowan Government has put $287,000 towards supporting a $553,329 contract to trial the beach safety services which, starting on Monday (January 20), will cover the cost of lifesaving patrols, with options for additional services such as jet ski and inflatable rescue boat services.
Last year, the Government agreed to a request from the City of Mandurah, for funds originally allocated for a beach enclosure at Falcon, to be used for community-preferred lifesaving services at its popular beaches.
Mandurah's community already has a keen Sea Sense, being one of the top locations where surfers and divers have claimed the McGowan Government's world-first $200 rebate to buy scientifically proven personal shark deterrent devices.
The new SharkSmart WA app is also popular, with more than 17,000 downloads. The free app helps people switch on their Sea Sense when they head to our beaches this summer.
Find out more information at www.sharksmart.com.au/staying-safe/sea-sense.
Comments attributed to Acting Fisheries Minister David Templeman:
"I congratulate Mandurah on its plan for three years of beach patrols that will support its community and provide lifesavers at four locations.
"Patrols will operate at Pyramids, Falcon Bay and San Remo, as well as Town Beach, until mid-April. The lifesaving services trial will be assessed annually over three years.
"These new services align with WA's comprehensive shark mitigation strategy, which funds Surf Life Saving WA beach and helicopter patrols along Perth metropolitan and south-west beaches, including Mandurah.
"Mandurah also initiated installation of Beach Emergency Number signs, since developed by the McGowan Government and offered to coastal councils from the Mid-West to Esperance.
"Collectively almost 900 BEN signs are now installed, covering 820 coastal locations, with unique codes for emergency services to pinpoint the locations in an emergency."
Minister's office - 6552 5300