Light ray
Light ray
Light ray
Light ray
Light ray
Light ray
Light ray










News and Alerts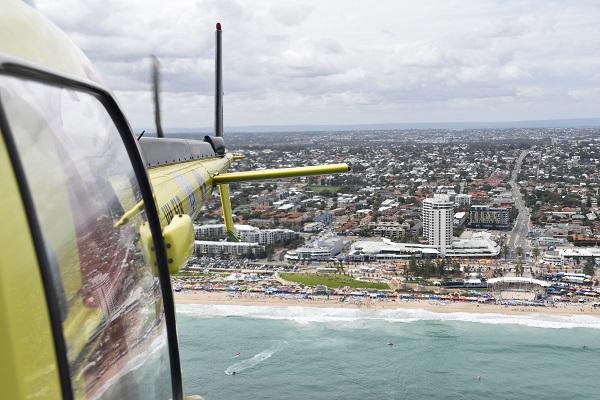 Helicopter patrols begin in spring for Perth and South-West beaches
30 August 2019
From Sunday, two helicopters will comb the WA coast to boost weekend beach safety
The Perth coastal patrols will have daily flights from September 30 to the end of April
South-West patrols fly daily during school holidays and at various times over summer
Beachgoers are encouraged to switch on their Sea Sense
Two State-funded helicopters will spring into action over Perth and South-West beaches from this Sunday (September 1), weather permitting, as a key part of the McGowan Government's strategy to keep beachgoers safe.
Fisheries Minister Dave Kelly today announced the Perth and South-West helicopter patrols, delivered in partnership with Surf Life Saving WA, will for the first time commence on the same day this year. The patrols begin with extensive weekend surveillance of beaches during the first month of spring.
Perth helicopter patrols will then become daily from September 30 and run through to the end of April next year.
South-West flights will also run daily during school holidays and peak periods (September 30 to October 13, 2019, November 16, 2019 to February 2, 2020 and April 10 to 27, 2020). At all other times between September 1 and April 30, the South-West helicopter will fly on weekends and public holidays.
The seasonal helicopter beach patrols cover more than 49,000 kilometres from Yanchep to Mandurah (including Rottnest Island), and over 49,500 kilometres along South-West beaches from Bunbury to Hamelin Bay.
Last year, the patrols watched over WA beaches for 890 hours and reported 463 shark sightings. Beaches were closed as a precaution on 41 high-hazard occasions. The helicopters also have on-board alarms, which alert ocean users to a range of dangers in the water. During last season's flights, the alarms were activated 174 times and helped to evacuate more than 2,000 people from the water.
While the State Government-funded helicopters are helping keep beachgoers safe, ocean users are still asked to switch on their Sea Sense this spring and summer. For tips on how to have a fun, safe time at the beach, visit http://www.sharksmart.com.au
Comments attributed to Fisheries Minister Dave Kelly:
"The McGowan Government has been working closely with Surf Life Saving WA to ensure the helicopters and patrols provide maximum coverage during peak periods.
"We have committed more than $2.8 million to support this season's new schedule of flights that deliver an important surveillance tool for our comprehensive, non-lethal shark hazard mitigation strategy.
"For the first time the State-funded helicopter for the South-West will commence at the same time as the Perth helicopter, ensuring those in regional areas can have greater confidence when in the water on weekends this spring.
"In the last two and a half years the McGowan Government has provided almost $15.7 million to partner with Surf Life Saving WA to improve beach safety.
"Beachgoers are reminded that they can also do their bit to make our beaches even safer by switching on their Sea Sense before they head for the beach or get out on the water."
Minister's office - 6552 6100