Light ray
Light ray
Light ray
Light ray
Light ray
Light ray
Light ray










News and Alerts
Find the latest advice, warnings, information and news here, to help you stay informed and be SharkSmart.
You can filter the latest information by alert, or media release. Current alerts and warnings are at the top of the page and highlighted.
Visit this page regularly to stay updated with the latest shark information.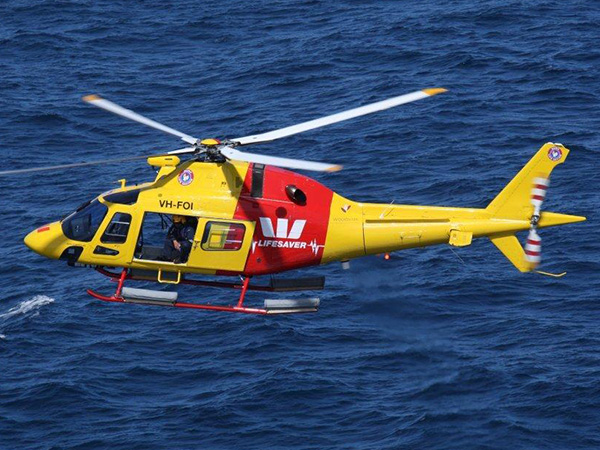 Helicopter beach patrols back in the air
22 November 2013
Beach safety along Western Australia's popular South-West coast will be boosted this weekend when the Surf Life Saving WA (SLSWA) helicopter takes to the sky for the first of its daily patrol flights over this summer.
SLSWA South-West based helicopter starts patrolling beaches tomorrow
Part of more than $6m Government funding in 2013-14 to reduce shark hazards
Flights will keep an eye on the coast between Bunbury and Augusta
Launching the new flight season in Busselton today, Fisheries Minister Troy Buswell said the aerial patrols would operate every day from November 23 to February 3, 2014, as well as the March and Easter long weekends next year.
"The highly trained crew will be on the lookout for people or vessels in distress, incidents on beaches, as well as rip currents or marine life, including sharks, that could represent a safety hazard," Mr Buswell said.
"They will work with surf lifesavers on local beaches including Smiths Beach and Yallingup, where daily SLSWA lifeguard services will be in place next month. They will also work with the daily beach patrols at Meelup and Bunker Bay which start tomorrow and run until early February.
"The helicopter is fully equipped to respond to emergency situations including rescues, and will provide support to other emergency services such as the WA Police."
The Minister said because Department of Fisheries' tagged shark detection equipment was also now in place off Bunbury and Meelup, the helicopter could potentially be tasked to carry out checks of shark detections from the monitors.
"The shark monitors were installed last month and provide another early warning tool for beach safety. A third monitor for the South-West is planned to be installed off Busselton in coming months," he said.
Last year, the helicopter carried out 21 shark searches on South-West beaches following up on alerts from the Department of Fisheries, Water Police and surf lifesavers. It was also involved in six search and rescue missions to provide support to WA Police.
"The helicopter provides a valuable fast response option to identify and deal with safety hazards. Last year it spotted 162 sharks including 15 white sharks and a large school of 60 hammerhead sharks," Mr Buswell said.
Fact File
All shark sightings should be reported to Water Police on 9442 8600
Beachsafe website (http://www.beachsafe.org.au) and smart phone app have details for all 3,494 WA beaches, including patrol info (where applicable), hazards, warnings, weather information, shark sightings, rescue stats, beach information and more
More than $6million was allocated in the State Budget 2013-14 for initiatives including patrols, shark tagging and tracking and research projects