Light ray
Light ray
Light ray
Light ray
Light ray
Light ray
Light ray










News and Alerts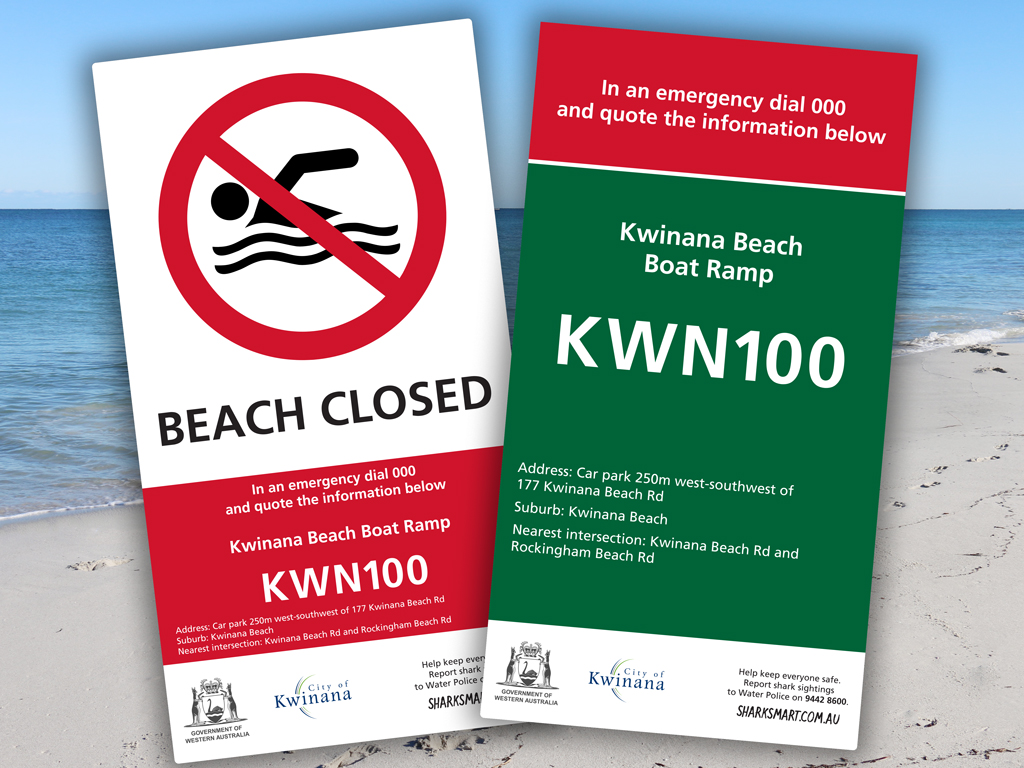 First of more than 1,000 lifesaving signs installed at WA beaches
17 August 2018
Beach Emergency Numbers will help save vital time in critical incidents
More than 1,000 BEN signs are planned for WA's coast from Geraldton to Esperance
McGowan Government delivers on election promise to support local governments to improve beach safety
The first of more than 1,000 lifesaving Beach Emergency Number (BEN) signs, funded by the McGowan Government, for the Western Australia coast have now been unveiled in the City of Kwinana and Shire of Waroona.
At Wells Park in Kwinana today, Fisheries Minister Dave Kelly and Kwinana MLA Roger Cook were joined by Rick Gerring to reveal one of nine signs for the Kwinana and Naval Base coast.
The BEN signs are part of the McGowan Government's election commitment to strengthen emergency responses should a serious incident occur. Each sign has a unique code, to help emergency services pinpoint exact beach access locations and improve crucial response times for a range of potential serious incidents.
The signs were initiated by Rick Gerring, the brother of Ben Gerring whose life was lost after a fatal shark attack in Falcon in 2016, after concerns about possible delays in attending emergency services trying to locate the closest beach access point.
The McGowan Government has offered grants of up to $25,000 for eligible metropolitan councils, and up to $50,000 for eligible regional councils, to install the lifesaving signage.
Since the announcement of the program in December 2017, 29 of the 32 eligible local government authorities have expressed an interest in the signage, and 26 are actively working with the WA Government.
The City of Kwinana is the first metropolitan council to install the lifesaving BEN signs through the McGowan Government's grants scheme, while the Shire of Waroona is the first regional council with three BEN signs now in place at Preston Beach.
The City of Mandurah independently installed 81 BEN signs in honour of Mr Gerring in May 2017.
These lifesaving BEN signs complement the McGowan Government's comprehensive shark mitigation strategy. This strategy includes; funding for Surf Life Saving WA beach, helicopter and drone patrols, a world-first personal shark deterrent subsidy for divers and surfers, beach enclosures, an extended Shark Monitoring Network to Esperance, tagging operations and a new SMART drumline trial off Gracetown.
Comments attributed to Fisheries Minister Dave Kelly:
"I am delighted to be delivering this project initiated by Rick Gerring in honour of his brother Ben Gerring who tragically lost his life in 2016.
"Time is critical in an emergency and could mean the difference between life and death. BEN signs will be vital for first responders to identify the quickest route to a precise location.
"I have spoken to emergency responders who have told me they have no doubt these signs will save lives.
"In the event of an emergency, the public can call triple zero and quote the BEN number with confidence that emergency services will reach the destination as quickly as possible."
Comments attributed to Kwinana MLA Roger Cook:
"The BEN signs will enhance the safety of our beautiful beaches, providing locals and visitors with surety that prompt help is at hand in the event of an emergency, be it a shark bite, boating accident, drowning, violence or a heart attack.
"I congratulate Kwinana and other councils for embracing this great example of constructive collaboration between State and local governments to address shared challenges that serve to protect and enhance the enviable beach lifestyle that Western Australians enjoy."
Comments attributed to Murray-Wellington MLA Robyn Clarke:
"The installation of these signs will make an immense difference in an emergency.
"Preston Beach is a popular tourist spot in the summer and I commend the Shire of Waroona for taking up this initiative to help keep locals and visitors safe."
Comments attributed to Rick Gerring:
"Using the BEN signs, the first people on the scene can relay the beach reference number with confidence emergency services know the exact location, reducing critical time in attending the scene.
"With the signs being standard along our coastline, it will mean people will instantly recognise them in the unfortunate event of an incident occurring and relieving unnecessary stress trying to communicate with emergency services.