Light ray
Light ray
Light ray
Light ray
Light ray
Light ray
Light ray










News and Alerts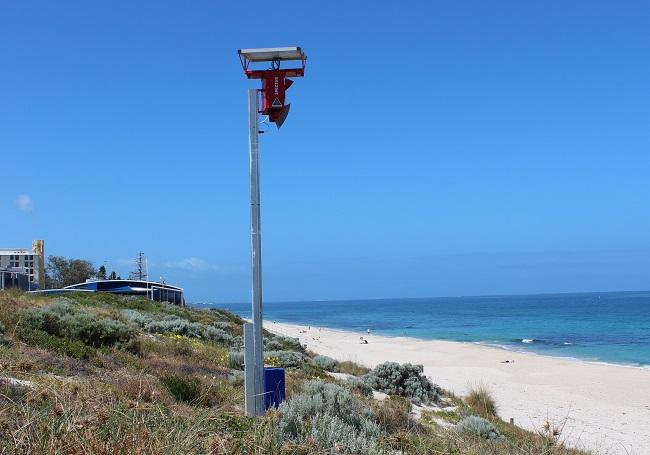 Cottesloe's beachside shark warning towers are ready for summer
18 November 2021
Shark Warning towers use lights, sirens and audio alerts to notify shark activity
10 beachside shark warning towers have been fully automated to link with receivers
McGowan Government is committed to making WA beaches as safe as possible
Two Shark Warning System towers, formerly used in the SMART Drumline Trial, which were refurbished and gifted to the Town of Cottesloe have been operational since the beginning of the month and are now fully automated and linked to nearby tagged shark detection receivers.
The automation work, undertaken by technicians from the Department of Primary Industries and Regional Development, was carried out last week, which means there are now twelve automated receivers in Perth and South-West WA.
Now in place at The Cove and North Cottesloe, the Shark Warning System towers will help alert beachgoers to the presence of a tagged shark, detected on adjacent Shark Monitoring Network receivers, which are moored off the coast of Cottesloe and North Cottesloe.
Under the automation program, these towers will operate daily from 5am to 7pm.
The eight other automated beachside Shark Warning System towers are installed at Twilight, West and Kelp Beds beaches along the Esperance coast, Bunker Bay near Dunsborough and there are two each at Cowaramup Bay and Lefthanders Surf Break.
Comments attributed to Fisheries Minister Don Punch:
"Cottesloe Beach is one of WA's busiest beaches, featuring a beach enclosure and Surf Life Saving WA patrols during summer months. The newly-installed Shark Warning System towers will add another layer of safety for those who enjoy The Cove and North Cottesloe beaches.
"The Town of Cottesloe made an enquiry about Shark Warning Towers while finalising its project to install 47 Beach Emergency Number (BEN) signs along council beaches and I am pleased the Department has been able to repurpose two towers used in the SMART Drumline trial for use in Cottesloe.
"I congratulate the Cottesloe Council for taking up the opportunity to install the towers, which provide direct valuable alerts of shark activity. But remember whenever and wherever you head for the ocean, remember to switch on your Sea Sense."
Comments attributed to Town of Cottesloe Mayor Lorraine Young:
"On behalf of Cottesloe Council I would like to thank the Department of Primary Industries and Regional Development and Minister Punch for the donation of the two refurbished Spectur Shark Warning Systems.
"The valuable addition of the Shark Warning Systems to Cottesloe complements the Town's other shark prevention and response systems of BEN signs, the protected swimming enclosure and beach patrols.
"We are pleased to be the first metropolitan local government to install the Spectur units and be in a position to offer our community and visitors to Cottesloe a combination of protective devices to allow them to enjoy a relaxing ocean swim or surf (at the Cove surf break)."