Light ray
Light ray
Light ray
Light ray
Light ray
Light ray
Light ray










News and Alerts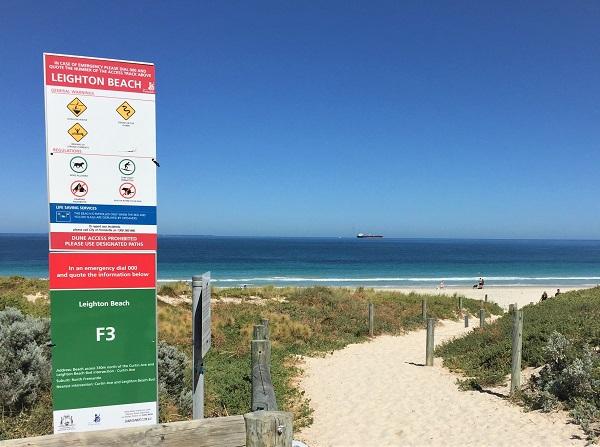 BEN signs to aid safety at beaches in the State's north
24 December 2020
McGowan Government offers BEN sign grants to 12 northern shires
Up to $600,000 available to shires for signage
BEN signs vital in supporting first responders in beach emergencies
Regional beaches in the State's north could soon display potentially life-saving Beach Emergency Numbers (BEN) signs with the McGowan Government extending coverage from north of Geraldton to Kununurra.
An additional 12 local government authorities will be eligible for grants of up to $50,000 each to produce the emergency signage for beach access points.
The first BEN signs were installed in 2018 as part of the State Government's election commitment and comprehensive shark mitigation strategy, and have become a vital part of directing first responders to emergencies at Western Australian beaches.
A total of 1,173 BEN signs have been installed to date across 26 metropolitan and south-western local government areas.
A further two have signs produced ready to install and another three are continuing to engage with the Government on the program.
Each BEN sign has a unique number, similar to a bus stop number, which helps to pinpoint the exact location and improve crucial emergency response times for a range of potentially serious incidents.
Since May 2018, 357 requests for police assistance and 219 requests for St John Ambulance via triple zero calls have been logged, where BEN signs helped fast track the response.
More information on the locations of BEN signs and beach safety information can be found on the SharkSmart website - http://www.sharksmart.com.au or via the SharkSmart WA app.
Comments attributed to Local Government Minister David Templeman:
"The BEN sign program is an important initiative that has seen a tremendous partnership between the McGowan Government and our local governments over the past three years.
"BEN signs were initially implemented by the City of Mandurah as an initiative of Rick Gerring whose brother Ben lost his life to a shark bite incident in 2016 and concerns were raised on the response time of emergency services.
"The McGowan Government has supported the installation of more than 1,000 BEN signs along our State's coast, ensuring our emergency services can respond to serious incidents at the beach as quickly as possible.
"Extending the program to a further 12 local governments in the north, provides the opportunity to install signage at some of our State's more remote beaches, potentially saving lives.
"I understand a number of local governments have already expressed interest in the signage and I encourage all eligible local governments to take the opportunity to apply for a grant to install BEN signs at key beach locations in their area."
Comments attributed to Fisheries Minister Peter Tinley:
"As we get closer to our summer holidays, I encourage all Western Australians heading to the beach to download the SharkSmart WA app.
"The app provides the location of all BEN signs and delivers near real-time notifications of the latest beach safety information.
"This is one of a number of strategies that the McGowan Government has implemented to mitigate the risk of shark attacks in our State."
Local Government Minister's office - 6552 5400
Fisheries Minister's office - 6552 5300
The 12 northern local government authorities eligible for grants are:
Shire of Wyndham-East Kimberley
Shire of Derby-West Kimberley
Shire of Broome
Shire of East Pilbara
Town of Port Hedland
Shire of Roebourne
Shire of Ashburton
Shire of Exmouth
Shire of Carnarvon
Shire of Shark Bay
Shire of Northampton
Shire of Chapman Valley