Light ray
Light ray
Light ray
Light ray
Light ray
Light ray
Light ray










News and Alerts
Find the latest advice, warnings, information and news here, to help you stay informed and be SharkSmart.
You can filter the latest information by alert, or media release. Current alerts and warnings are at the top of the page and highlighted.
Visit this page regularly to stay updated with the latest shark information.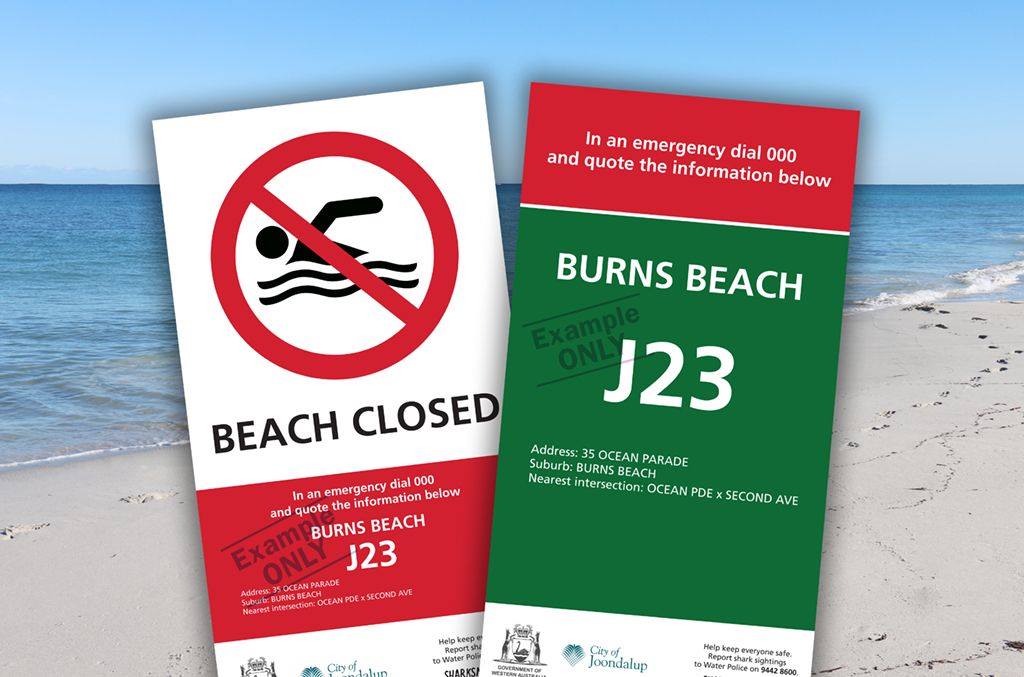 Beach Emergency Numbers grant applications open
16 December 2017
McGowan Government delivers on election promise to support local governments to improve beach safety
Beach Emergency Numbers will help save vital time in critical incidents
Councils along the Perth metropolitan coast are urged to apply for funding
Fisheries Minister Dave Kelly today opened applications to metropolitan councils for Beach Emergency Numbers (BEN) signage, which will provide beachgoers with location information to help emergency services to respond to serious incidents.

The BEN signs are part of the McGowan Government's election commitment to strengthen emergency measures, following the fatal shark bite incident at Falcon in 2016 that claimed the life of Ben Gerring.

Mr Gerring's brother Rick, who joined Mr Kelly today to launch the BEN signs, put forward the idea after concerns about possible delays in attending emergency services trying to locate the closest beach access point to the incident.

The locations of the uniquely coded signs will be recorded with emergency services and also include the street address and nearest cross street.

The McGowan Government has since committed funding of up to $25,000 for metropolitan councils along the Perth coast for BEN signage to be installed at beaches.

Details regarding funding for regional councils will be announced next week.

Comments attributed to Fisheries Minister Dave Kelly:

"I commend Rick Gerring's courage for finding a positive way to honour his brother Ben and for helping coastal communities take action to make beaches safer.

"In many incidents, including a serious interaction with a shark, every second counts to save the person's life and by helping emergency services locate the site of an incident faster it could save lives.

"If a situation arises and you're at the beach, all you have to do is quote the number on the beach sign to an emergency operator and this code will be recognised by the emergency dispatch system.

"This new signage system complements the McGowan Government's multi-faceted approach to shark hazard mitigation that includes funding for Surf Life Saving WA patrols, a world-first shark deterrent subsidy, the extension of the Shark Monitoring Network to Esperance and funding for a beach enclosure in Falcon."

Comments attributed to Local Government Minister David Templeman:

"The BEN system will ensure that emergency services can easily locate a beachside incident and I am pleased to see that they are being made available this summer.

"The City of Mandurah has already installed 80 of these numbers and I urge other metropolitan and regional councils to apply without delay."

Comments attributed to Rick Gerring:

"In any medical emergency seconds count, for a member of the public to tell emergency services the exact location will only improve response times and the patients' chances of recovery.

"Our coastline is vast and sometimes there can be numerous access points, the BEN signage will direct services to that exact location. Councils can only benefit their community by accessing the grant and installing the signage.

"For Ben's legacy to be saving lives is a proud and humble moment."

Comments attributed to Western Australian Local Government Association President Lynne Craigie:

"This is a great initiative and we thank the State Government for taking up a Local Government-led initiative, and supporting that with funding.

"This collaboration between State Government and Local Government will improve safety in the community.

"We congratulate the City of Mandurah for kick-starting this important system."

Fisheries Minister's office - 6552 6100
Local Government Minister's office - 6552 5400