Light ray
Light ray
Light ray
Light ray
Light ray
Light ray
Light ray










News and Alerts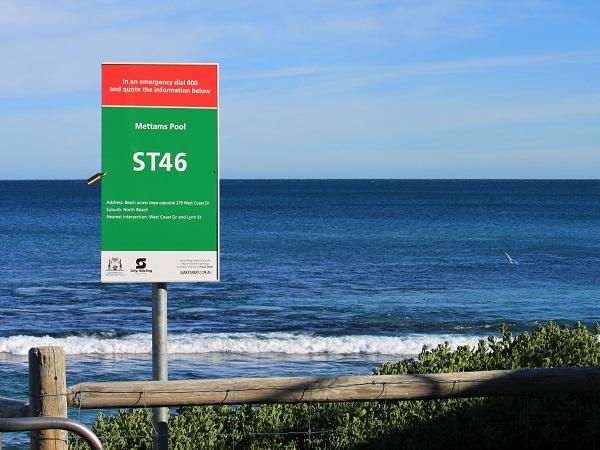 Another BEN signs milestone to enhance coastal safety
09 June 2022
Installation of BEN signs in the City of Stirling completing their rollout along Perth's coast
1,482 BEN signs between the Mid-West and Esperance
Over $500,000 in McGowan Government grants provided to WA councils and shires for their installation
The installation of 73 new Beach Emergency Number (BEN) signs by the City of Stirling will complete the rollout of signs along metropolitan beaches to help people accurately convey their location in the event of an emergency.
BEN signs were first adopted by the City of Mandurah after advocacy from Rick Gerring, whose brother Ben lost his life in a fatal shark bite incident in 2016. The following year, the McGowan Government initiated a local government grant program to install the signs.
Over the past five years, they have been installed primarily at beach access points and at other coastal areas including harbours, estuaries, boat ramps, fishing platforms, jetties, and non-coastal lakes and rivers.
The signs have helped identify the location of people seeking emergency services, ranging from shark incidents to sea creature stings, diver and surfing accidents, disturbances, welfare checks, and search and rescue activities. The signs are also utilised to provide a specific location when making shark sighting reports.
Once installation of the City of Stirling's signs is finalised, there will be 582 BEN signs in the Perth metropolitan area and 896 in the South-West region of Western Australia.
Four signs have also been installed as part of the northern WA rollout, with more than 100 additional signs to be installed by the end of the year as part of the program's next phase.
Comments attributed to Fisheries Minister Don Punch:
"BEN signs are now delivering a wide community benefit, with the unique code on each sign helping emergency services pinpoint where help is needed and improving response times.
"They have helped in everything, from getting assistance to shark incidents and in providing accurate locations for shark sighting reports, as well as many other coastal emergencies where callers have referred to BEN signs while seeking help from emergency services.
"I congratulate the City of Stirling for their commitment to join the other Perth coastal councils in installing BEN signs and improving safety on our beaches - and local Scarborough MLA Stuart Aubrey on his advocacy for this project.
"Everyone should be familiar with the BEN sign at their favourite beach and remember to quote the sign's unique code when reporting an emergency."
Comments attributed to Scarborough MLA Stuart Aubrey:
"As a local surf lifesaver dedicated to protecting lives on our beaches, I know how valuable having BEN signs up and down our coast is.
"I am glad to see the BEN signs finally being installed along our beaches in the Scarborough electorate.
"These signs will be vital in helping beach-goers and emergency services all year round. I am proud to have been an advocate for this project."